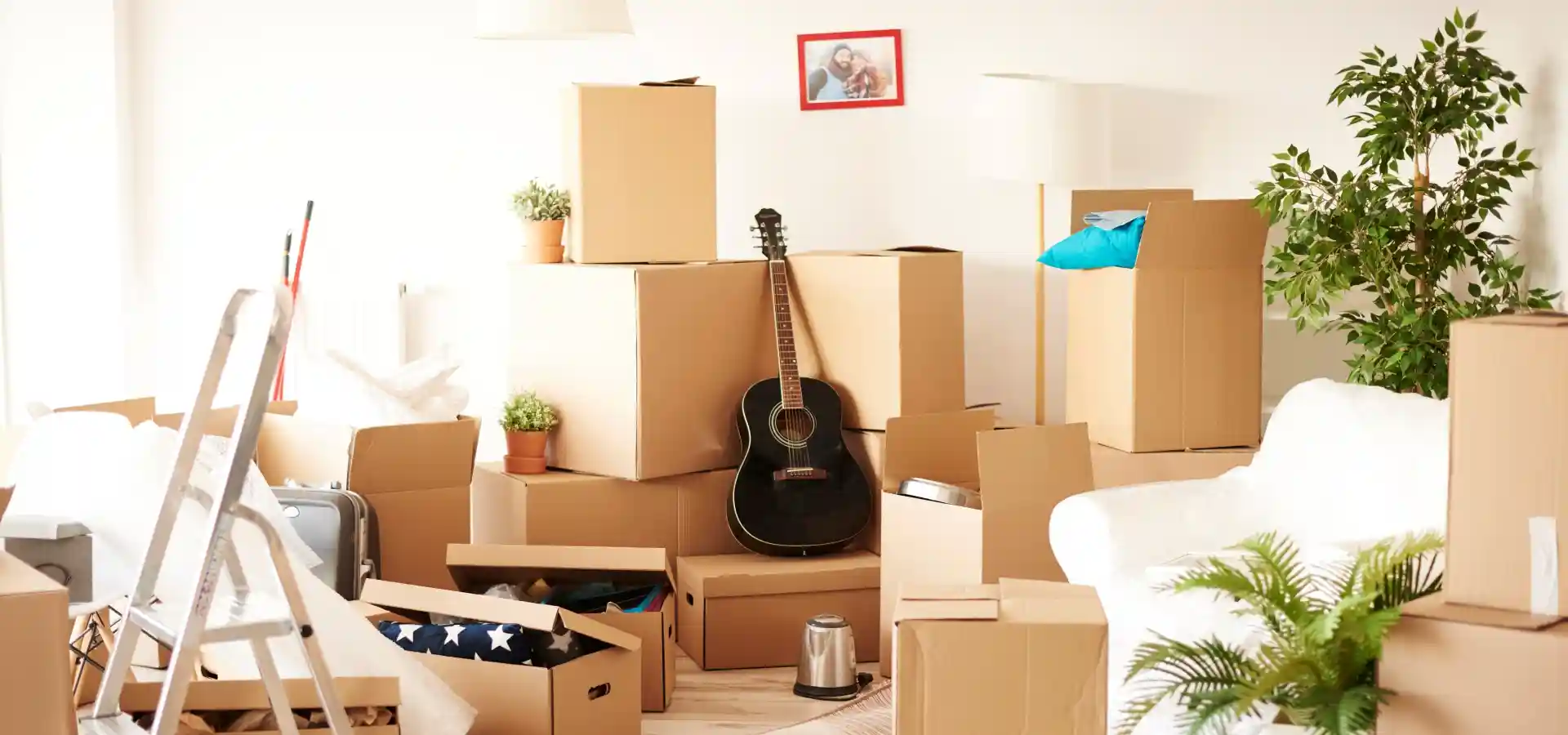 One among the many challenges during buying and setting up a new house, is preparing for the big move, and the first day at the new place! When you have been buying, sorting, discarding, and packing your stuff, from weeks and sometimes even months, all hell still breaks loose on the first day in the new house when someone realises, he/she forgot that one essential item you all needed to survive through the first day! Although things are much more easier today thanks to the efficient agencies offering packing & moving services, wherein all the heavy-lifting is done by them, the first day in the house cannot go well without your intervention; and especially when every box has been unloaded and has been dumped in the respective rooms, and now it's just you and your family living its very first day in the house.
So, here's a fairly detailed and exhaustive list of things you should pack last, and have in handy, and ready to use during your extra-long and tiring first day. In order to make it more convenient, we've bifurcated it into things you'll need in different rooms or for different purposes.
Here goes!
Cleaning Supplies (General| Bathroom| Toilet):
Yes, that's what you'll need first, because once all the boxes have been bought in, a previously clean house is also going to need a thorough cleaning. And if even one among you is even slightly allergic to dust… well you know what happens…
So, make sure you have access to:
- Broom
- Dustpan
- Duster Cloth
- Mop
- Floor Cleaner
- Cleaning Wiper
- Cobweb Brush
- Garbage Disposal Bags
- Dustbin
- Disposable Cleaning Gloves (in case you have allergies)
- Doormats For Every Room
- Mosquito Repellent
- Insect Spray
- Room Freshener
Puja Supplies (First Day Essentials):
Once you've done the preliminary cleaning, the first thing to do that makes sense to us all (being religious, devout Indians at least on specific occasions) is to light a lamp and pray to our gods, and seek blessings for the new beginning. Thus, even when you may not be immediately setting up the Puja Room there are some things you will still need on the first day, which are:
- Idol/Picture Of Your Deity
- Diya/Lamp
- Wick For The Lamp
- Oil/Ghee
- Matchsticks
- Incense Sticks And Incense Stick Holder
- Puja Cloth
- Prasad (You definitely can't be doing the first puja in your new house, without the prasad)
These are only the first day essentials, and the Puja Room will definitely have more supplies which are further different for different families.
Kitchen Supplies:
Although it practically makes sense to make arrangements for food, from outside on the first day, it is also considered auspicious to be cooking something first in the new house, rather than ordering from outside. This first cooking experience doesn't have to be elaborate, and while some may want to cook an entire meal, just making tea/coffee also suffices.
Moreover, its not just the aspect of auspiciousness! Imagine being tired because of all the work you've been doing and then not even having the supplies to brew the much-needed coffee you need for the extra boost. Also, if you have kids or pets, you know they're almost always hungry, and also very fussy about their eating habits, so you need to make sure you're ready to feed these monsters on the first day!
So, even before you start setting up your house, here's what you should have easily accessible in the kitchen:
- An Induction Stove (Great option when you don't immediately have access to a gas cylinder)
- A Gas Stove (Some People Prefer The Gas Stove Over The Induction!)
- A Gas Cylinder
- Lighter
- Matchsticks
- Dishwashing Soap & Scrub Pad
- Napkins
- Opener
- Scissors
-Basic Cooking Utensils
- Cooker
- Frying Pan
- Rolling Pin And Board
- Chopper
- Tawa
- Milk Boiler
- Utensil
- Knife
- Peeler
- Serving Spoons
-Food Supplies
- Drinking Water
- Salt
- Sugar
- Tea
- Coffee
- Milk
- Flour
- Rice
- Vegetables
- Fruits
- Spices
- Oil
- Instant Food/Ready-To-Cook Packets
- Chocolates
- Ready-To-Drink Beverages
- Pet Food
- One time use utensils (So you do not have to wash tons of utensils on the very first day!)
- Plates
- Bowls
- Spoons
- Cups/Glasses
Bathroom And Toilet Supplies:
Now that your kitchen is set, get going to setting up the bathrooms, and toilets. Most essential because well when nature calls, you don't ignore it. And jokes apart, personal hygiene and cleanliness is a must while you are busy sweating as you set-up your house.
- Napkins
- Slippers
- Towels
- Handwash
- Buckets
- Mugs
- Bathing Soap
- Shampoo
- Conditioner
- Toothbrush
- Toothpaste
- Detergent Soap
- Toilet Cleaner
- Toilet Cleaning Brush
- Plunger (Generally not needed on the first day, but better to be prepared!!)
Living Room Supplies:
The first day in the living room isn't going to need much… apart from provisions to get rest during your breaks from the setting-up. Also, there are always those do-gooders that come to offer help, and often just stay-back to supervise and give unsolicited advice. And no matter how inhospitable you wish to be to them, they are actually your first guests, and hence need to be treated in a manner they won't feel inconvenienced amidst all the chaos.
So, here's what you need in the living room:
- Chairs
- Makeshift Curtains (You don't want neighbours peeping in while you set-up house right?)
That's it! Make sure you have seating arrangements that don't get in the way, and still allow you to have a space to relax for a while at least, and curtains so your privacy isn't invaded.
Bedroom Supplies:
The first room to temporarily set-up for the first day, after the preliminary cleaning, especially when you have elder members or really young babies/toddlers in the house, who need their everyday rest. And of course, if you need to take a nap in between all the work…
Here's what you need:
-Makeshift Curtains (Like I said, you need your privacy)
-Mattresses (These can be the makeshift, portable mattresses until you set-up your furniture)
-Your Pillows (the one's you're used to… because the key to getting good sleep at a new place is having your own pillow)
-Bedding (Bedsheets, Blankets)
-A Spare Set Of Clothes
-Basic Grooming Kit
-Comb
-Small Mirror
-Deodorant
-Safety Pins
-Spare Hair Ties/Clips
-Nail-Cutter
Pet Supplies:
Moving with your fur-baby can be very stressful for them, because of all the chaos around them, and them not understanding what's happening. So, it is even more essential that you have their essentials ready for the day you move. That way these babies will have lesser stress to deal with. Here's what you should take with you:
-Pet Bed
-Pet Water/Food Bowl
-Leash
-Poop Scooper
-Pet Medicines
-Pet Crate (This allows them to have their own space while things are getting set-up)
First-aid Supplies:
When things are planned and executed well, then the first day after you have moved doesn't feel stressful… but despite all the planning, sometimes you may end-up needing medical resources; and not having them around is a big NO.
So, here's a list of some things you could have in your first-aid kit. While this may vary from person-to-person, this list is decent for a general reference purpose:
-Antacids
-Painkillers
-Muscle Relaxants
-Paracetamol
-Prescribed Medicines
-Band-Aid
-Bandage Wrap
-Disinfectant
-Relief Spray
-Burns Cream
Electronics:
Your life would be at a fear of coming to a stan-still if you didn't have access to the following electronics accessories, in your new house, on the very first day:
-Chargers
-Power Banks
-Laptop + Charger
-Bluetooth Speaker
-Batteries
-Spikeguard/Extension Box
And Don't Forget This:
Sticking Tape & Rope & Toys For Kids & Pets.
Because you never know when you may need rope to tie, sticking tape to stick something (or someone)…
And definitely you need stuff to keep the little tornadoes from getting bored and causing destruction in the new, yet-to-be-set house.
This sums up the OPEN IT FIRST boxes list, to ensure your first day in the new house goes great! Get to it, and don't forget to celebrate the first day!