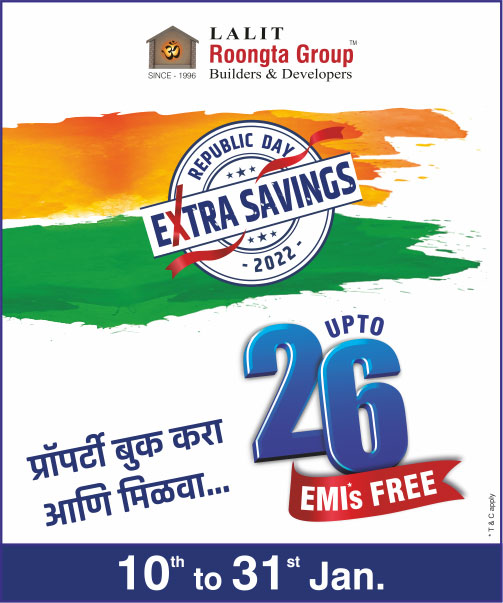 EXTRA SAVINGS UPTO 26 EMI'S FREE THIS REPUBLIC DAY
Extra Savings Up To 26 EMI's FREE this Republic Day on booking 1/2/3 BHK Flats or Shops for Sale in Nashik. Offer Valid from 10th Jan to 31st Jan 2022. Hurry and Book your Property Today with Lalit Roongta Group. Call 7770002222.

Offer Valid: From 10th Jan 2022 to 31 Jan 2022

All Residential & Commercial Properties available at Location
Gangapur Road, Indira Nagar, Govind Nagar, Tidke Colony, Adgaon, Karmayogi Nagar, Makhmalabad
TRUSTED BUILDER IN NASHIK
A Legacy Of More Than 25 Years

More Than 20,000 + Satisfied Families

Multiple Awards Received

Revolutionized Urban Living In Nashik
Please enter the details below to get in touch with us !
-->
Disclaimer
Please note that the contents and information on this Website are in no way intended to advertise, market, book, sell or invite any member of public or agents to purchase any units or flats in the project.The developer reserves the right to change,revise or make any modification,addition or omission or alteration in the scheme, price as a whole or part thereof at their sole discretion. The final plan will be released once all the government's permission approved.The website is for imaginative purpose and is not a legal document or a binding one.
Lalit Roongta Group
COPYRIGHT © 2022. Lalit Roongta Group. ALL RIGHTS RESERVED.